Music and the other arts are the most potent demonstration that, in the heart, we are all one community.

~ Jan Swafford
Search by instrument:
H
Edwin
Genavus
Hamiliton
Edwin was born into a musical family. He inherited a natural vocal gift from his mother, and his keyboard and percussion skills from his father. He began playing piano at age 5, and soon after learned the drums (Edwin did not ever own a drum set until age 19… he practiced his craft at church, at school and at home — on pillows!). He listened to all styles and genres of music with his parents, listening and playing behind the radio and the many different records his father and mother had at home. One day he stumbled upon Jazz and fell in love "at first sound."
Edwin has become one of the most sought after drummer/percussionists in the Southeast and across the USA. He is currently the drummer for the Mike Frost Band and the Rob Foster Jazz Quartet. At his young age he has already performed, recorded and/or worked with notable names such as: Teddy Adams, Explorer's Club, Chris Crenshaw, Michael Dease, Calvin Edwards, Delbert Felix, Mike Frost, Aaron Goldberg, Wycliffe Gordon, Niki Haris, Enrique Hernandez, Charmaine Neville, Delfeayo Marsalis, Wynton Marsalis, Shannon Powell, Marcus Printup, Vinny Raniola, Herlin Riley, Christian Sands, Tye Tribbet, Frank Vignola, Christian Winther and many more. Edwin has also played on big stages/arenas in front of crowds of over 10,000 and has toured the United States, extensively.
Edwin serves as the Minister of Music at Olive Branch Baptist Church in Batesburg-Leesville South Carolina. Edwin endorses four companies: Arti Dixon Bass Drum Lift, Beato Inc. (drum bags), Kopf Percussion (cajons) and Stellar Custom Drums (wood hoops). In 2014 he earned a Jazz Fellowship to go study in New Orleans, Louisiana under the great Herlin Riley.
Please click here for further information about Edwin.
Wayne
Hankin
historical woodwinds, composer/arranger
Considered one of the major performers of his generation, Wayne specializes in preclassical winds with over 4000 performances to his credit worldwide. He has mastered instruments played only by a small handful of people on the planet including various bagpipes, hornpipes, flutes, whistles, gemshorns, trumps, bone flutes, double reeds and others. There are also instruments made exclusively for his talents of which he is the sole performer
Wayne is best known for his 8 productions with Cirque du Soleil, most recently Toruk, based on James Cameron's Avatar. Along with his credits in the classical and circus world Wayne is no stranger to film and television. His most recent film credits include Pixar's The Good Dinosaur and The Lego Movie, and television's Breaking Bad and Disney's Princess Adventures. His most recent performances for video games include Pixel Privateers and Hero's Charge.
Wayne's film debut in 7 Solos earned him Best Short Subject at the World Music and Independent Film Festival in Washington DC. He has received over 30 awards and grants from various organizations including ASCAP, Meet the Composer and The National Endowment of the Arts.
Wayne is also a conductor; he made his debut at Houston Grand Opera conducting Meredith Monk's Atlas . He returned to the world of opera in 2018, performing with the Glimmerglass Opera Orchestra in Kevin Puts Silent Night. As a composer, Wayne's music was recently performed by the Chautauqua Symphony Orchestra. His next orchestral performance as guest artist will be with the Los Angeles Philharmonic in the Spring of 2019.
Wayne teaches all over the country with major residencies at the Chautauqua Institution and the Interlochen Arts Academy. He would like to thank his major teachers Shelley Gruskin, David Hart, Michael Schneider and Mattius Maute who helped shape his technique and musicianship. His latest project is JUBO which is designed to turn our nation into a nation of music makers by way of a simple instrument that is affordable and easy to play.
The most directly communicative playing came from Wayne Hankin who played bagpipes with the soulful abandon of a medieval John Coltrane —- New York Times
One carried away memories of Rameau's unceasing invention, delicacy and shapeliness. There highpoint amid so much that was bewitching were a pastoral sequence in Act 1 colored by Wayne Hankin's musette whose innocence and charm, so cannily contrived could melt a heart harder then Bels
—-Andrew Porter, The New Yorker
For more about Wayne, please visit his website.
Diane
Haslam
Diane was born in Mansfield, England, and graduated in Vocal Performance from the Royal Northern College of Music, Manchester. As a soloist she has performed in operas and orchestral concerts in England, Europe, and the United States, singing with orchestras, including the English Sinfonia, Royal Liverpool Philharmonic, English Chamber Orchestra, Netherlands Philharmonic, and the Indianapolis Chamber Orchestra.
She sang for seven years on a full-time contract with the Netherlands Opera in Amsterdam. Her operatic roles have included Dorabella (Cosi fan Tutte), Cherubino (Le Nozze di Figaro), Siebel (Faust), and Isabella (Italiana in Algeri). Diane has appeared in numerous Arts Festivals and concert series, specializing in presenting themed concerts combining song and poetry. American composer Rick Sowash has written extensively for her voice, dedicating 28 songs and song cycles to her.
She has been a respected teacher for more than 25 years and her private voice studio, Vocal Dimensions, is in Aiken, SC. For three years she taught as Adjunct Professor of Voice at Newberry College, South Carolina, where she created courses in Vocal Literature and Vocal Diction, coaching students in six languages. She is currently on the faculty of USC Aiken as Lecturer in Voice.
Diane has given Master Classes in vocal performance and led workshops
in holistic singing in England and the United States. She is the founder and music director of the Aiken Singers. Her book, "The Heart of Singing: Steps on the Path to Becoming the Singer You Want to Be," is now available through Amazon.com or Diane's own website and as an eBook on Kindle. Diane writes about singing in a monthly blog.
Amos
Hoffman
Amos is an Israeli Jazz Guitarist and Oudist known worldwide as a pioneer in fusing the rhythms and melodic themes of the Middle East with Modern Jazz. Hoffman started playing guitar at the age of 6, and oud a few years later. He studied guitar privately, and later attended the prestigious Rubin Academy of Music in Jerusalem.
His search for new musical experiences led him first to Amsterdam, and then to New York City, where he played jazz with both established musicians and up and coming talents like Jason Lindler, bassists and fellow Israelis Omer Avital and Avishai Cohen, and Chilean vocalist Claudia Acuna. Hoffman has recorded 4 solo albums, The Dreamer (1999), Na'ama (2006), Evolution (2008) and Carving (2010).
Hoffman has performed at venues both small and large in Israel and around the world. He has also contributed on dozens more for artists in Israel (Idan Reichel and Nurit Galron) and worldwide including Avishai Cohen, Kiko Berenguer (Spain), and Jan Mlynarski (Poland). He was featured in Mezzo TV's (France) Jazzmix Tel Aviv broadcast, and headlined at festivals in Israel, Turkey, Spain, Romania and France.
In 2014, Amos was awarded one of Israel's most prestigious prizes – The Landau Prize for Arts and Sciences for outstanding achievement in the field of Jazz. Hoffman's most recent release, BACK TO THE CITY (2015 follows in the tradition of the great guitarists of the old school – Wes Montgomery and Kenny Burrell – while bringing a fresh interpretation to the language of jazz guitar. BACK TO THE CITY features both original compositions and standards, with stellar lineup of old friends completing the : bassist Omer Avital, drummer Vince Ector, saxophonist Asaf Yuria, trumpeter Duane Eubanks and special guest Itai Kriss on flute.
Now based in Columbia, S.C., Hoffman looks forward to sharing his unique musical worldview with American audiences through his performances with the Rob Foster Jazz Quartet and other collaborations.
Joy
Hoffman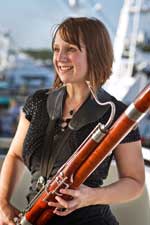 Bassoonist Joy Hoffman is a freelance musician and private teacher, originally from a suburb of Washington, D.C. At the age of seventeen, she appeared on National Public Radio's program,"From the Top," and also gave a solo performance with the United States Navy Band.
Joy graduated summa cum laude in bassoon performance, first with her B.M. from Florida State University in 2009, and then with her M.M. from University of Maryland (2011), where she was a concerto competition finalist in 2009. She held an adjunct teaching position with Pensacola State College from 2012-2014, teaching various music courses, as well as performing with the faculty woodwind quintet.
Joy has played throughout the Gulf Coast region, including solo appearances with the Magnolia Chamber Orchestra, playing principal bassoon with the Northwest Florida Symphony, second bassoon with the Gulf Coast Symphony (Gulfport, Mississippi), and substituting regularly with the Pensacola Symphony. Since moving to Evans, Georgia, Joy has played with the Lyra Vivace Chamber Orchestra, Hilton Head Symphony, Savannah Philharmonic, and the Albany Symphony, in addition to returning to Florida to play with the Pensacola Symphony.
Washington
Isaac
Holmes
Equally at home on both the concert and theatrical stage, Isaac has performed as a vocal soloist, dancer, instrumentalist, and chorister all over the world, including performance tours in the Netherlands, Central and Eastern Europe, Great Britain and East Asia. The Augusta, GA region has benefited from his versatile talents in roles ranging from musical theatre and opera to Shakespeare and narration for symphonic works. The Augusta Opera, Augusta Players, USC Philharmonic, Augusta Symphony, Paine College, the Morris Museum, and Aiken Community Theatre are among the organizations who have featured Isaac as a vocal artist and actor.
Isaac is an assistant professor of music and Concert Choir Director at Paine College in Augusta, Georgia, and served for many years as artistic director and conductor of the Columbia County Choral Society
An Augusta, GA native, Isaac received a B.M.A. from the University of South Carolina and a Master of Music degree from the University of Michigan (Ann Arbor), where he majored in vocal performance, studying with George Shirley, and Leslie Guinn.
Richard
House
Richard is an Associate Professor of Music and the Director of University Bands at Presbyterian College in Clinton, SC, where he directs the Wind Ensemble, Jazz Ensemble, Pep Band, teaches music education classes and applied lessons in trumpet. An active professional trumpet performer, he has performed with Symphony Orchestra Augusta (GA), the Augusta Choral Society, the Charleston (SC) Symphony Orchestra and continues to perform recitals, wedding ceremonies, and church services.
Richard has held prior band/music teaching positions at Claflin University, Augusta State University, Bridgewater College, as well as Middle and High School in Raleigh, NC and Chesterfield, SC. His degrees include both a Doctor of Musical Arts in Instrumental Music and Masters in Trumpet Performance from Arizona State University, and a Bachelor of Music in Music Education from East Carolina University.