Joy
Hoffman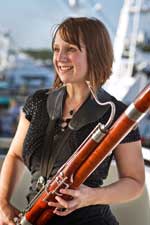 Bassoonist Joy Hoffman is a freelance musician and private teacher, originally from a suburb of Washington, D.C. At the age of seventeen, she appeared on National Public Radio's program,"From the Top," and also gave a solo performance with the United States Navy Band.
Joy graduated summa cum laude in bassoon performance, first with her B.M. from Florida State University in 2009, and then with her M.M. from University of Maryland (2011), where she was a concerto competition finalist in 2009. She held an adjunct teaching position with Pensacola State College from 2012-2014, teaching various music courses, as well as performing with the faculty woodwind quintet.
Joy has played throughout the Gulf Coast region, including solo appearances with the Magnolia Chamber Orchestra, playing principal bassoon with the Northwest Florida Symphony, second bassoon with the Gulf Coast Symphony (Gulfport, Mississippi), and substituting regularly with the Pensacola Symphony. Since moving to Evans, Georgia, Joy has played with the Lyra Vivace Chamber Orchestra, Hilton Head Symphony, Savannah Philharmonic, and the Albany Symphony, in addition to returning to Florida to play with the Pensacola Symphony.
Top of Page